The BOTAN Back Applicator Strip is perfect for even, streak-free application without hand contact.
The BOTAN back applicator strip ensures uniform, streak-free application of all BOTAN self-tanning solutions. The waterproof lining protects the hands from any contact with the product. The BOTAN applicator band is machine washable, gentle cycle for reuse.
This back applicator makes it easy to apply BOTAN solutions to hard-to-reach areas. No need for an extra person to help you. Simply apply the self tanner directly to the back applicator and swipe back and forth. The more you rub, the more even your tan. The tan is thus streak-free for hard-to-reach areas.
Once you are done with your routine, simply rinse with clean water and hang to dry. Reuse it over and over again. Whether you're using lotion or tanning cream or tanning mousse, this applicator has you covered.
Once equipped with your back band, apply the cream as you would with your usual moisturizing body lotion! Take your time and make large movements so as not to concentrate the product on one area only.
The back applicator strip can be used with BOTAN cream, mist or lotion.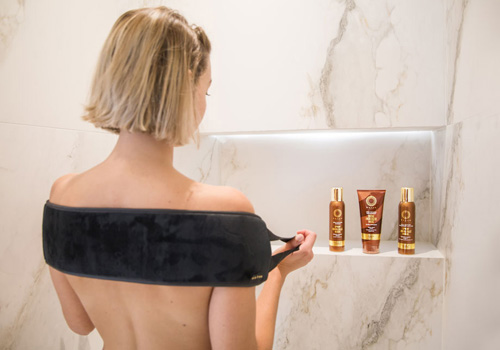 Use: Place the cream directly on the soft part of the band. Hold each side of the applicator handles and gently glide the applicator down your back with a swiping motion. Repeat another application (if necessary) until the entire back area is evenly covered.
Rinse the band with clear water or in the washing machine and allow to dry flat before each use.